A business podcast series – My Favorite Mistake: Navigating Business & Career Pitfalls for Leadership Growth and Innovation
Host Mark Graban (author of books including Measures of Success and Practicing Lean) interviews business leaders who share reflections about their "favorite mistake."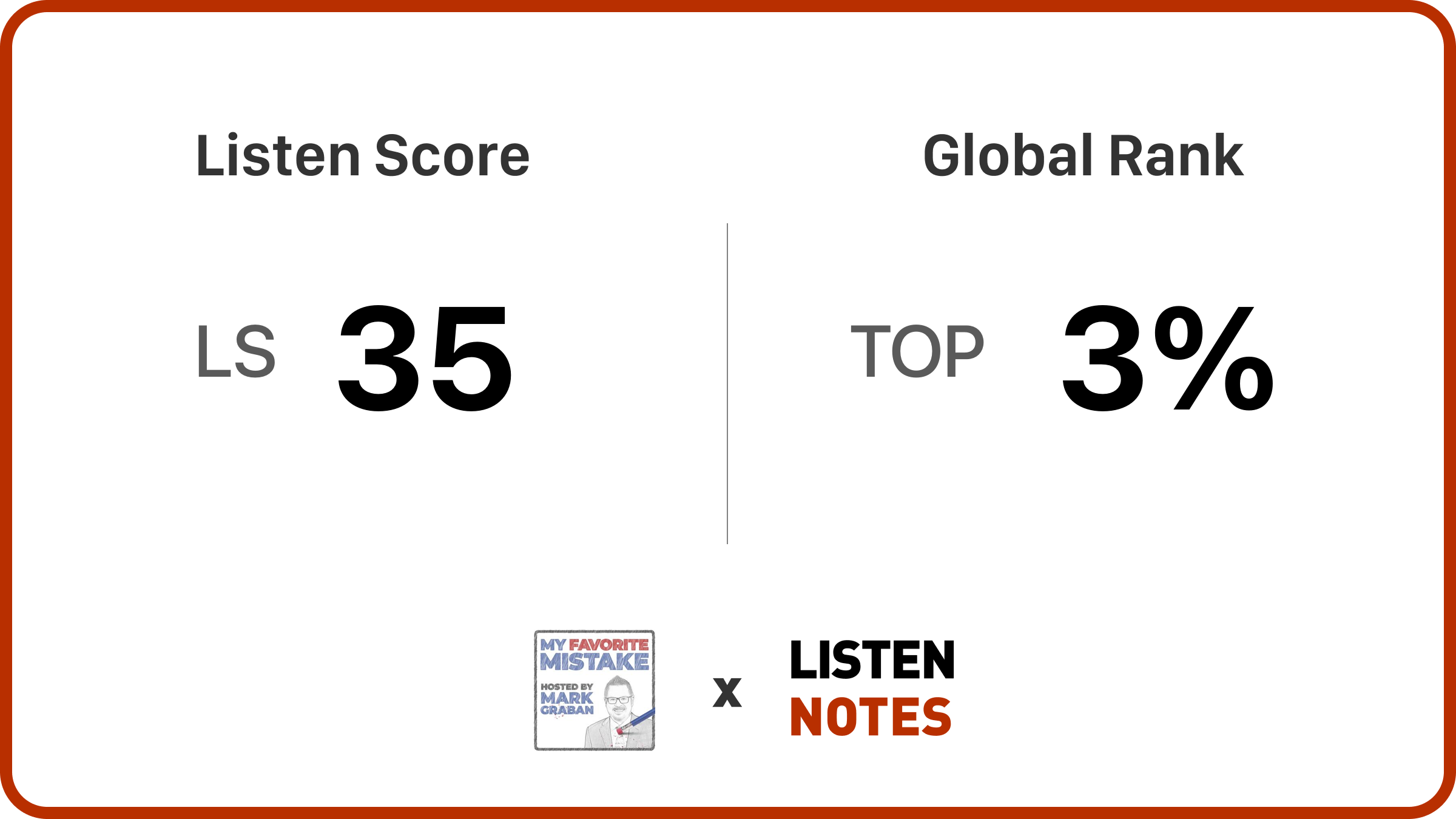 ---
Elevate your leadership acumen with "My Favorite Mistake," hosted by Mark Graban. This podcast delves into the game-changing mistakes made by industry leaders, transforming them from setbacks into setups for innovation and success. Hear riveting stories that entertain and provide actionable strategies and key takeaways. Covering diverse topics from organizational transformation to emotional intelligence, we offer a unique blend of experiential storytelling and real-time solutions. Subscribe today and turn every mistake into a stepping stone to unparalleled success.
---
The stories and lessons from the podcast have inspired a new book! Learn more and order now
---
Listen to the Trailer:
This podcast is part of the Lean Communicators network… check it out!
Streaming Player:
---
Please Rate and Review!
---
Follow & Listen via Apple:
Other Ways to Follow or Subscribe:
Via email and other podcast apps, including Google Podcasts, Spotify, Amazon Music, Stitcher, Player.fm, and more…
---
Episodes
---
Note: I am strongly committed to having guests that accurately reflect and represent the diversity of the United States (and that's in addition to international guests that I might have).
More About the Show
My Favorite Mistake: An Exploration into the Transformative Power of Mistakes in Leadership and Business
Welcome to "My Favorite Mistake," a groundbreaking podcast series hosted by Mark Graban, an acclaimed author, speaker, and consultant in the fields of leadership and business management.
The Genesis of My Favorite Mistake
In a world that often perceives mistakes as failures, this podcast stands as a counter-narrative. Mark Graban firmly believes that mistakes are not merely setbacks but setups for future success. Inspired by his latest book, "The Mistakes That Make Us: Cultivating a Culture of Learning and Innovation," this podcast aims to reshape the way we look at mistakes—in careers, leadership, and business endeavors.
Who Should Listen?
"My Favorite Mistake" is designed for a wide range of professionals—whether you are an entrepreneur just setting sail, a seasoned C-suite executive seeking rejuvenation in your leadership style, or a mid-level manager looking for practical strategies to boost performance. The podcast serves as a reservoir of real-life experiences, invaluable lessons, and actionable advice that can drastically alter the trajectory of your professional journey.
What Sets Us Apart?
Exceptional Insights: One of the unique features of this podcast is its focus on transforming mistakes into milestones for personal development and business growth. The narrative is not about failure but about succeeding differently—often spectacularly—through the prism of mistakes.
Diverse Perspectives: Gain insights from industry leaders, entrepreneurs, and experts across various domains. From tech gurus to healthcare professionals, the podcast covers a rich tapestry of experiences and viewpoints.
Actionable Strategies: Beyond storytelling, each episode provides actionable strategies that you can implement immediately. These range from novel frameworks to tried-and-true best practices that encourage innovative thinking and continuous improvement.
High-Quality Dialogue: The podcast is committed to presenting well-researched, deeply analytical, and highly engaging discussions. The conversations are designed to stimulate critical thinking, catalyze innovation, and inspire transformative change.
Global Relevance: While the host and many guests are based in the United States, the lessons and experiences shared have universal applicability. Whether you are in Berlin, Mumbai, or Sydney, the insights you gain here will resonate.
Topics Covered
Organizational Transformation: How can a single mistake catalyze a complete organizational turnaround?
Strategic Innovation: Uncover the strategic missteps that often serve as the undercurrents for groundbreaking innovations.
Lean Leadership: How do Lean principles intersect with mistake-driven growth, and what can Lean leadership learn from mistakes?
Emotional Intelligence: Why is EQ important in mitigating the impact of mistakes, and how can it be a tool in transformation?
Experiential Storytelling: Engaging and emotionally charged stories from industry luminaries that come with a hearty serving of practical wisdom.
Your Host: Mark Graban
Mark Graban is not just the host but also serves as a guide, commentator, and expert, unpacking each shared mistake and the ensuing lesson with the depth of analysis only a veteran consultant could offer. With a rich academic background and an enviable career spanning across various sectors, Mark brings a multi-dimensional approach to the subject matter.
Why Subscribe?
By subscribing to "My Favorite Mistake," you are not just listening to a podcast but joining a vibrant community of forward-thinking professionals committed to personal and professional excellence. This podcast is your weekly dose of invigorating insights that can act as catalysts for change and growth in your leadership journey.
Are you ready to redefine your understanding of mistakes? Are you prepared to transform every misstep, stumble, and fall into a stepping stone toward unparalleled success? If so, hit the "Subscribe" button and let the journey begin.
Your future successes are just a mistake away. Welcome to "My Favorite Mistake."
---
Whether you choose to listen during your morning commute, workout session, or as an afternoon pick-me-up, each episode promises to be a rewarding investment in yourself. Don't miss this opportunity to turn your perspective on mistakes—and success—on its head. Subscribe today!